Here is a little data from several ignition curve tests.
The deal with the ignition modules, goes like this; Stock module starts at 6 degrees BTC until 1700 RPM, then advances to 32 degrees at 2600 RPM, then goes off the tach at 32 degrees
The Pederzini 1.1 modules start at 6 deg. until 1700 RPM, then advance to 30 degrees by (approx.) 2800 RPM. It remains at 30 deg. until 8000 RPM, then retards to 20 deg. at11,000 RPM
The Pederzini 2.4 modules start at 0 degrees until 2000 RPM, then advance to 29.5 degrees at 3400 RPM, stay there until 8500 RPM, then retard to 10 degrees at 10,800 RPM
In the normal WOT operating range of 900SS Ducatis, the ignition timing is essentially fixed.
The ignition timing of stock Ducatis varies at least +&- 1 degree. With a stock compression 900SS, the power doesn't respond very much to what is a 2 degree retardation of the timing.
High compression engines like a little less ignition 'lead' and the dyno charts show it.
The first dyno chart is a test of stock ignition modules, and Pederzini 1.1, and 2.4 modules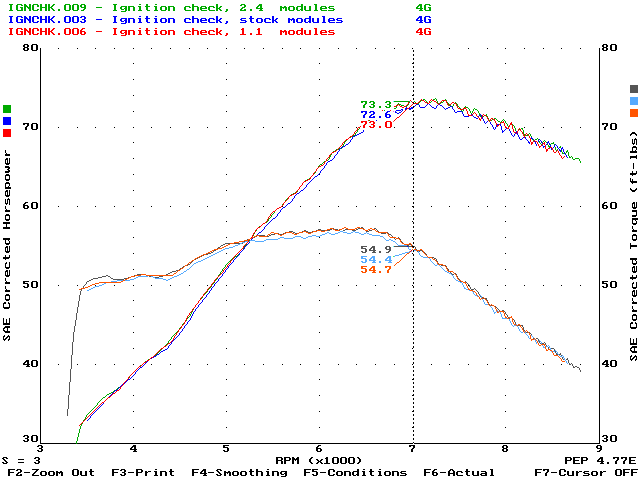 The second chart is from an ignition timing study of a 984cc engine with very high compression. Here you can notice the improvement from a small ignition timing retard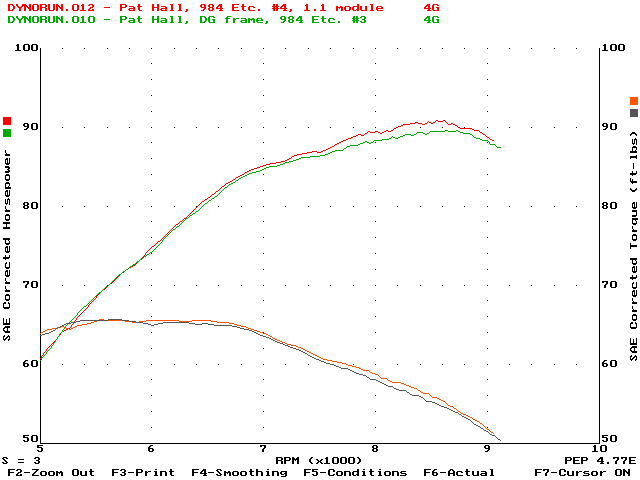 Finally, another check of stock vs Pederzini 1.1 modules on a stock compression engine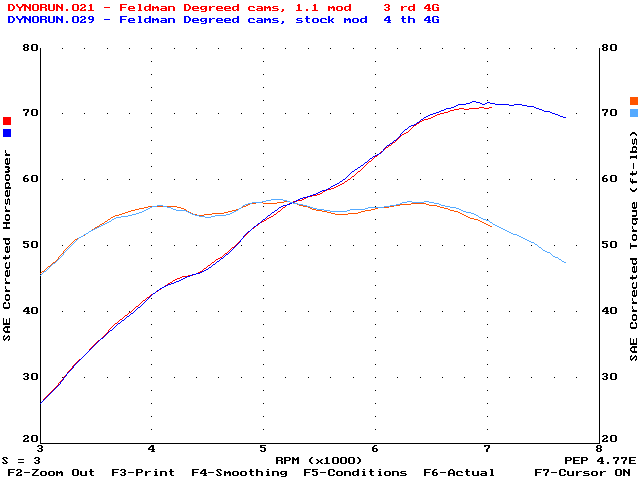 High cylinder pressures are supposed to cause increased combustion rates. The results of these three tests, imply that, that is the case, and the high compression engine responds the most, to the small ignition retardation that the Pederzini modules offer.
I have thought that the 1.1 modules might offer a little more improvement in the mid-range, of a stock compression engine, by advancing the ignition timing a little (1 or 2 degrees). After finding and re-examining the Pederzini data sheet, I'd have to change my opinion;
Any claims of large power gains, in the normal operating range of a 900SS (with stock inlet length) are due to some other change, not the Ignition Curve. And, there might be a noticable change when taking off from a stop. Because you go through the only RPM range were it might be different.
This isn't in a range where WOT power is used, therefore, effects on WOT power are limited.
In any case, adjusting your ignition timing for best operation is part of the tuning process, whether you use stock or after-market ignition parts. You're just kidding yourself if you think you can get big HP numbers without tuning.