The 851 2 valve
I finally got to work on 'the project' bike. It runs, and I spent a day to create a map for it. It's a 907ie top end with an 888 crank. 92mm bore, 64mm stroke.
That's 851cc, water-cooled, and fuel injected. The perfect 900SS!
The frame has had the 888 rear suspension grafted to it. Reed raced the bike with an air-cooled 750 engine, (and Ohlins forks) Mike Golden lapped BIR at 1:52, saying he could drop 2 seconds if it had Dunlops on it (Reed was using Bridgestones and going considerably slower.)
Since the rear suspension of the first 851 was cut off of one of the TT F1 racers, and they were racing the F1 at 851ccs for Battle of the Twins, this could have been built in 1987.
Here it is as it was coming together.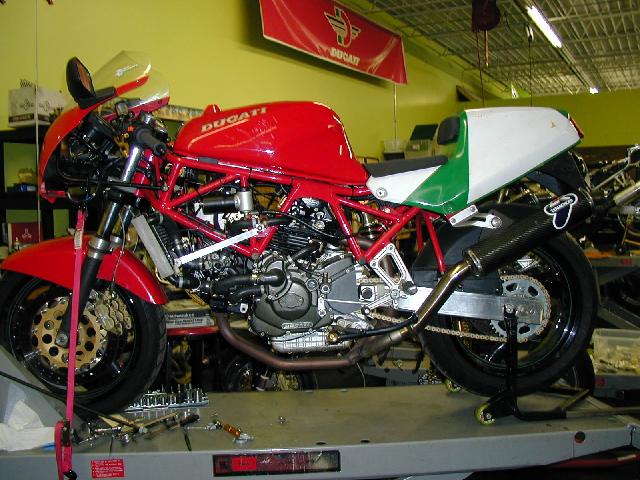 When I was ready to start it, I put a map for a 944 907ie into the computer. It started but it didn't seem 'happy'.
I put it on the dyno and it was too rich everywhere. Idle, mid, top end. So much that it bogged the first time I opened the throttle all the way?!?
First, I decided to change to the injectors from the green ones that the 907ies come with to the red ones from my SP2 4-injector rack.
That solves three problems;
1) I don't have to dis-able the 2-valve bike to put 4 green injectors on my 926 (if it ever gets assembled.)(Two from the '90 851 rack, two from the Paso rack.)
2) Since one of the red injectors has a weird spray pattern, I don't need to replace it.
3) I can lean out the entire map.
Creating a good map from one that's really bad is a satisfying experience.
Usually, the first few changes net pretty good gains, then the improvements get smaller and smaller. At some point, you know that you can improve it a little, but, you just declare it done.
The chart below shows the progress.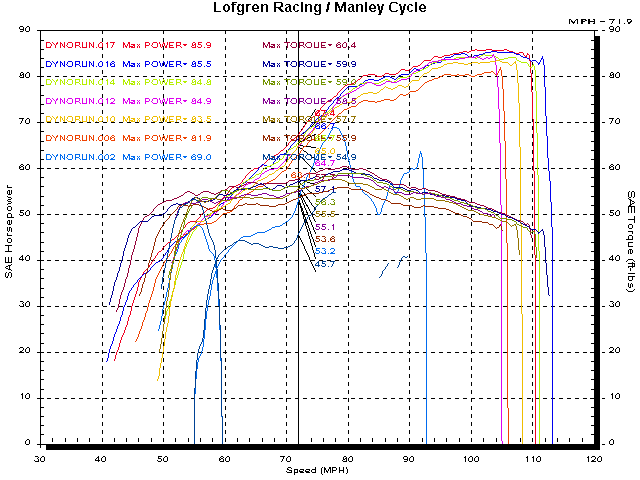 The light blue trace is the first one. You can see that it was pretty bad. The first change (from run No. 002, green injectors, to No. 006, red injectors) caused an increase from 69 to 81.9 HP.
Once I got a fairly good air/fuel ratio, I tried ignition timing changes and it liked that too.
The engine has a very light modified stock flywheel on it and once I got the map right, it starts with the touch of the 'Start' button and revs really sweetly.
It's a 'happy' bike!
The final result is shown below, uncluttered by the other stuff.